Turner HIll Interpretive Center
The Turner Hill Interpetive Center officially opened in the old law office (behind the Barrett House on Main Street) on June 28, 2017.
Preserving "Journey's End," the Turner family homestead at the top of Turner Hill on the Townshend Road has been an ongoing project for several years. The first phase is a driveway from Turner Hill road to Birchdale Camp, the last building standing on the site. The road will avoid any wetlands and their buffer zones. There will also be a small parking area near the building. The second phase is the restoration of the old camp building. It will begin with the exterior foundation work, structural work, repair of windows and doors, new roof and siding.
A volunteer group organized by the Windham Foundation have met many times to create the Interpretive Center in the village. The center is intended to give visitors a look at the family story and the town. Stop in and learn where escaped slave Alec Turner chose to settle down and raise his family. The story spans two centuries and covers two continents. Alec's daughter Daisy, a well know storyteller, is remembered by many Grafton residents.
Informational signs posted in three locations around town also tell other parts of the Turner story.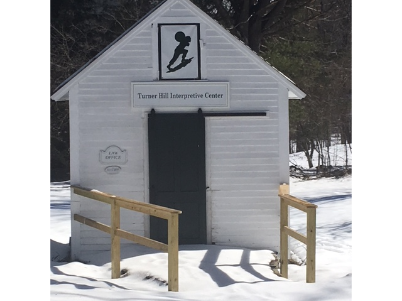 Partners working together to bring the Turner family's Grafton story to your are:
Vermont's Afican American Heritage Trail, Preservation Trust of Vermont
Windham Foundation and Grafton Inn, Vermont Folklife Center, Vermont Fish & Wildlife Dept.
Grafton History Museum, Vermont Partnership for Fairness and Diversity